First stop on our Côte d'Azur trip was one of the most romantic and lovely places in the world, Venice. This sanctuary on a lagoon is virtually the same as it was six hundred years ago, which adds to the fascinating character. Venice has decayed since its heyday and is heavily touristed (there are slightly more tourists than residents), but the romantic charm remains. And if you dream about real romantic, you have to take Gondola. Taking a gondola ride through the canals of Venice can be very romantic, but it can also be costly, something around $100 for 40 minutes.
Two hundred years ago, there were 10,000 gondolas in Venice. Although the aristocracy preferred horses to boats through the early Middle Ages, beginning in the 14th century, when horses were outlawed from the streets of Venice, the noble class embraced gondolas as a respectable form of transportation.
Today there are only 500 gondolas, used only by tourists. The boats are prettier, but they work the same way they always have. Single oars are used both to propel and to steer the boats, which are built curved a bit on one side so that an oar thrusting from that side sends the gondola in a straight line.
There are about 400 licensed gondoliers. When one dies, the license passes to his widow. And do the gondoliers sing, as the popular image has it? Singing is not a requirement for a gondolier. Although some may sing, it's best not to expect it. Some may also give information during the ride. Rick Steven's mom asked gondolier that very question, and he replied: "Madame, there are the lovers and there are the singers. I do not sing."
But not just gondolas are romantic in Venice. Take a look at our Pesaro Palace hotel.
Nice video slideshow is here.
I love the view on gondolas at night… so romantic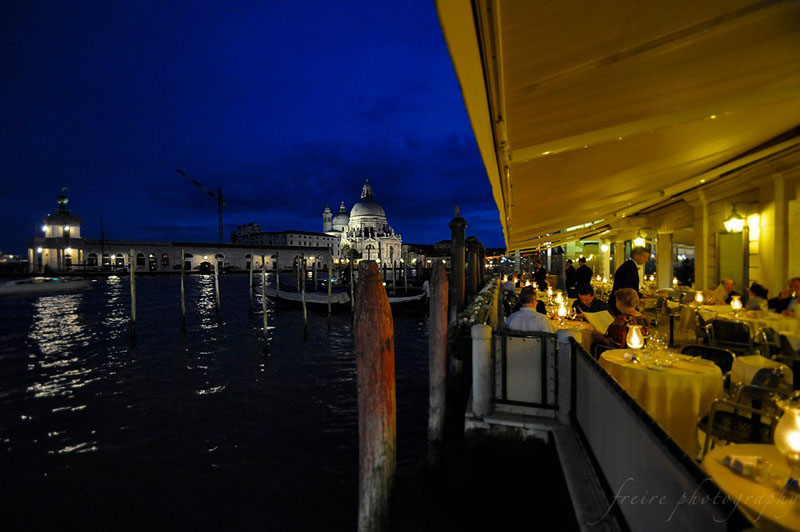 Really amazing atmosphere when you are sitting on restaurant terrace in St. Marco square.
Lovely gondolas with small lights
Freire Photography
Facebook | Pinterest | Twitter | Blog
jan@freirephotography.com
954.604.7669